Mediterranean food is a cuisine most popular in the warmer parts of Europe, the Middle East, and North Africa. These climates make it ideal for growing various vegetables, herbs, and other produce. Mediterranean food uses natural, sustainably sourced ingredients.
The main features of the Mediterranean diet are lots of vegetables, fruits, legumes, nuts, seeds, olive oil, fish and moderate amounts of dairy, meat and wine.
My Choice of Food
Moussaka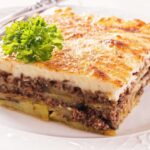 It's an eggplant- or potato-based dish with ground lamb or beef and tomato, onion, and garlic sauce. Hot Greek baked dish.
Greek Salad
The Greek salad is a refreshing and healthy dish perfect for a summer meal. In olive oil and vinegar, combine tomatoes, cucumbers, onions, olives, and feta cheese. The salad is easy to create and customizable. Add some grilled chicken or shrimp to make it a complete meal, or enjoy it as is.
Baklava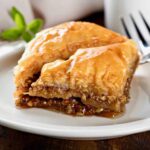 It is a sweet dessert which is popular in the Mediterranean food. Layered phyllo, almonds, and syrup. Dish with rich and sweet treat which is perfect for any occasion. You cannot resist of those sweet flavors of sugar and nuts.
Dolmas
Rice, ground meat, and seasonings wrapped in grape leaves make a traditional Mediterranean food. Some dolmas contain veggies or fish. Other wraps use grape, cabbage, or other leaves. Dolma-wrapped Sarma. They're hot or cold.
Borek
Borek, or Turkish-style spinach and savoury cheese pie, combines two kinds of cheese with onion, parsley, spinach, dill and a touch of nutmeg for a delicious savoury treat for any meal or snack. With all those flavors it just melt in your mouth.
Mezze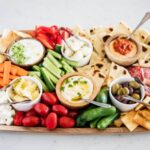 A mezze platter contains various foods often served as appetizers in Mediterranean and Middle Eastern cuisines. Arrange a variety of dips, cheeses, olives, raw vegetables and pita bread triangles on a large platter.
Fattoush Salad
It's a fresh and bright salad made with seasonal vegetables and topped with the iconic fried pita bread – perfect for serving with chicken tawook or beef kafta. Fattoush is fried bread with lettuce, tomatoes, cucumbers, and radishes. Extremely healthy dish with plenty of vitamins, minerals, and healthy fats.
Falafel
Chickpeas, fresh herbs, and spices make up this Middle Eastern "fast food." It's varieties exist. Chickpeas are common. Cumin, coriander, and garlic were mashed overnight. As balls or patties, fry the mixture. Pita pocket with lettuce, tahini, and spicy sauce.
Moroccan Tagine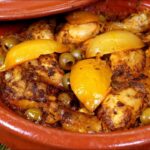 Tagine in Morocco is their version of the quintessential bowl of soup – varied in flavor, infinite in possibilities. Berber food is prepared in a clay pot with chicken, beef, lamb, veggies, or eggs. Tagines are slow-cooked stews containing vegetables, spices, dried fruit, and nuts.